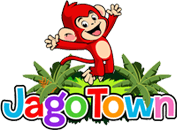 Jago Town
Jago Town is an indoor playground, situated upstairs next to Hoyts inside Te Awa.
Open 7 days a week, this is a unique concept, state-of-the-art playground, catering for children ages up to 10 years, including a safe, separate play area for younger children.
There is an onsite cafe with delicious food and coffee so that you can relax while the children play. The themed party and function rooms are perfect for your child's next birthday party. Jago Town provides a premium venue for the whole family to enjoy together.
Opening hours:

All week: 9.00am - 5.00pm