BACK TO SCHOOL | THE BASE
News
25 January 2021
Ever since I was a little girl, I've adored stationery – and, asking around, I'm not the only one!  So, 'back to school' is actually something I look forward to; it feels like yet another New Year opportunity for fresh starts and setting yourself – oops, sorry – your kids – up for a successful year ahead.  So whether you love cruising the stores looking for cute matching pencil cases and piling up the new books or you find it more of a chore, here are a few of my favourites – available in stores now.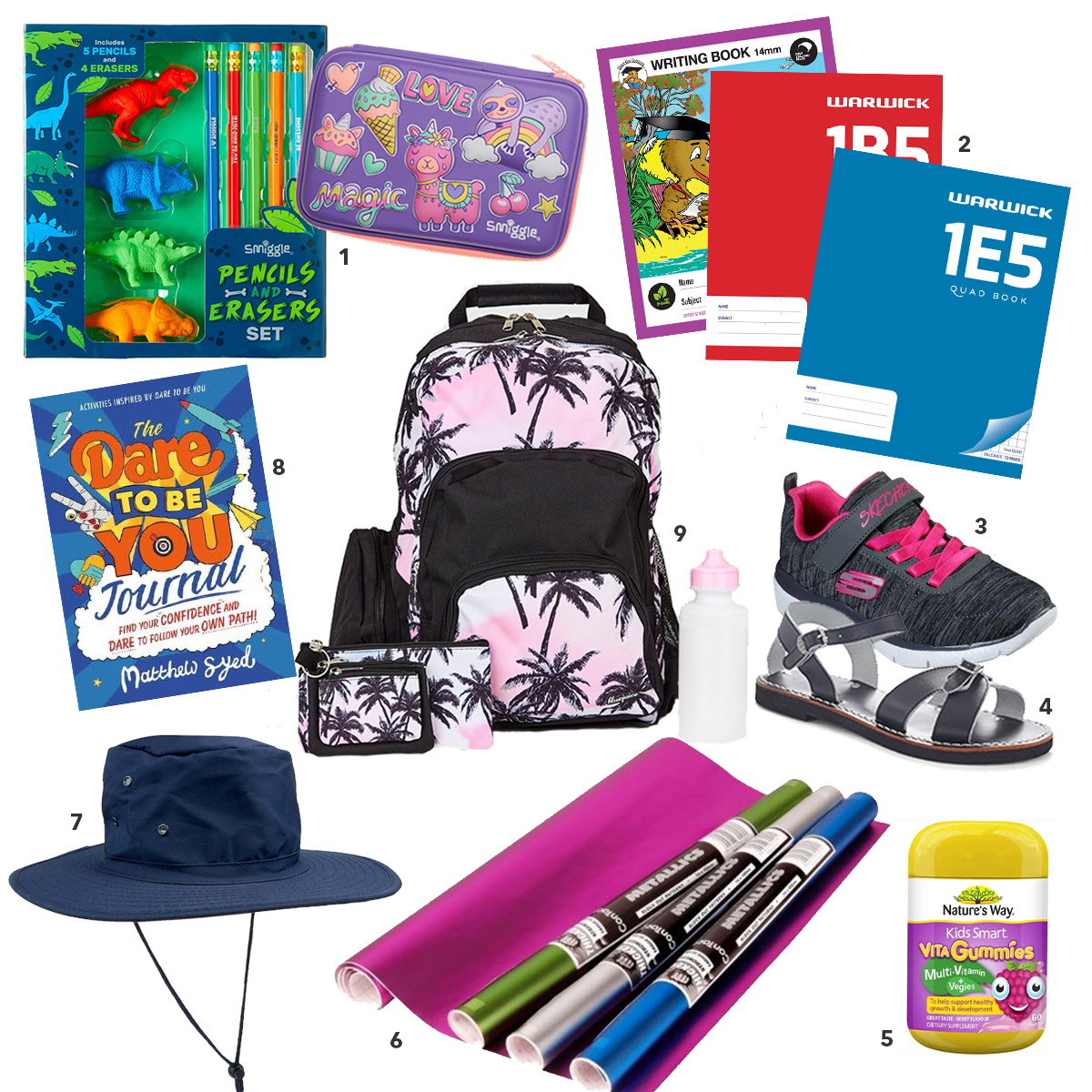 1. Stationery set and pencil case, Smiggle | 2. Exercise books, Paper Plus | 3. Sports shoe, Skechers | 4. Roman sandal, Hannahs | 5. Kids' multivitamins, Life Pharmacy | 6. Book coverings, Paper Plus | 7. Sunhat, Postie | 8. Dare to be You journal,  Whitcoulls | 9. Backpack with matching accessories, Strandbags.
BAGS, BOTTLES AND BENTO BOXES
I REALLY hope that you haven't been unlucky enough to find a schoolbag (or worse, lunchbox!) over the summer break that is still full of last year's treasures!  But whether you're looking for a new bag and lunch box as part of your new school year tradition, spoiling your new entrant or replacing lost or worn out gear, there are a few things to keep in mind.
If you're looking for a new backpack, you'll be spoilt for choice in terms of colour, but make sure you keep control of function as well.  Consider bags with wide, padded straps for comfort, and adjust length to prevent sore backs and shoulders.  Consider the size of exercise books and, particularly for littlies, make sure that a large bag isn't a temptation to carry everything – you'll be surprised how heavy their packed bags can get.  Smiggle has some gorgeous rolling backpacks that are great for primary-aged kids.
When it comes to lunchboxes, we LOVE insulated products – particularly in summer.  Also popular at our house are bento box style containers, allowing us to pop snacks into individual compartments and avoiding the need for lots of plastic and packaging.  Don't forget a drink bottle to keep them hydrated all day long.
BOOKS AND STATIONERY
If your school does this inhouse, you've already ticked this off – go you!  If not, there are plenty of time-savers, Paper Plus and Warehouse Stationery both offer click and collect back to school services.  Keep everything together (and well away from some of the OTHER stuff that ends up floating around their school bag!) with book bags and pencil cases that not only keep your kids organised, but let them express a bit of their personality.
Keep their books looking better for longer – and add a bit of flair with plastic book covers and don't forget to add nametags.
TOP TO TOE
BEFORE that first day of school, head into their rooms and find all of the uniform and clothing bits and pieces that you think are in their wardrobes and drawers but haven't seen for a while.  Whether your children are in uniform or get to choose what to wear to school, take a few minutes now to check that everything is in good condition and still fits (that Summer growth spurt is a doozy!) and repair or replace as needed.  Clearly name everything so that if they put it down, you have a better chance of getting it back.
This time of year, we also put a bit of effort into moving back into routines that melted away during the Summer break.  We move back into earlier bedtimes and gradually pull morning routines back into line – and usually add a multivitamin to breakfast so that everyone is in top shape and ready to hit the school year running.  And on that first day back – don't forget a photo!