KIT OUT THE KIDS FOR WINTER SPORT AT THE BASE
Lifestyle
26 April 2021
As the School Holidays draw to an end, it's time to start thinking about Winter sport!  Community sport is a fantastic way for our tamariki to get active, as well as improving their coordination, honing their teamwork skills and celebrating the small successes every week, be that progress, team spirit or scoring the match winning goal.
But, if your small sportspeople are anything like mine, they're not as small as they were last year!  So before weekend sport starts up, kit them out in gear that fits well, does the job and looks great.  While I'm out doing that, I also like to treat myself with a few supporter essentials.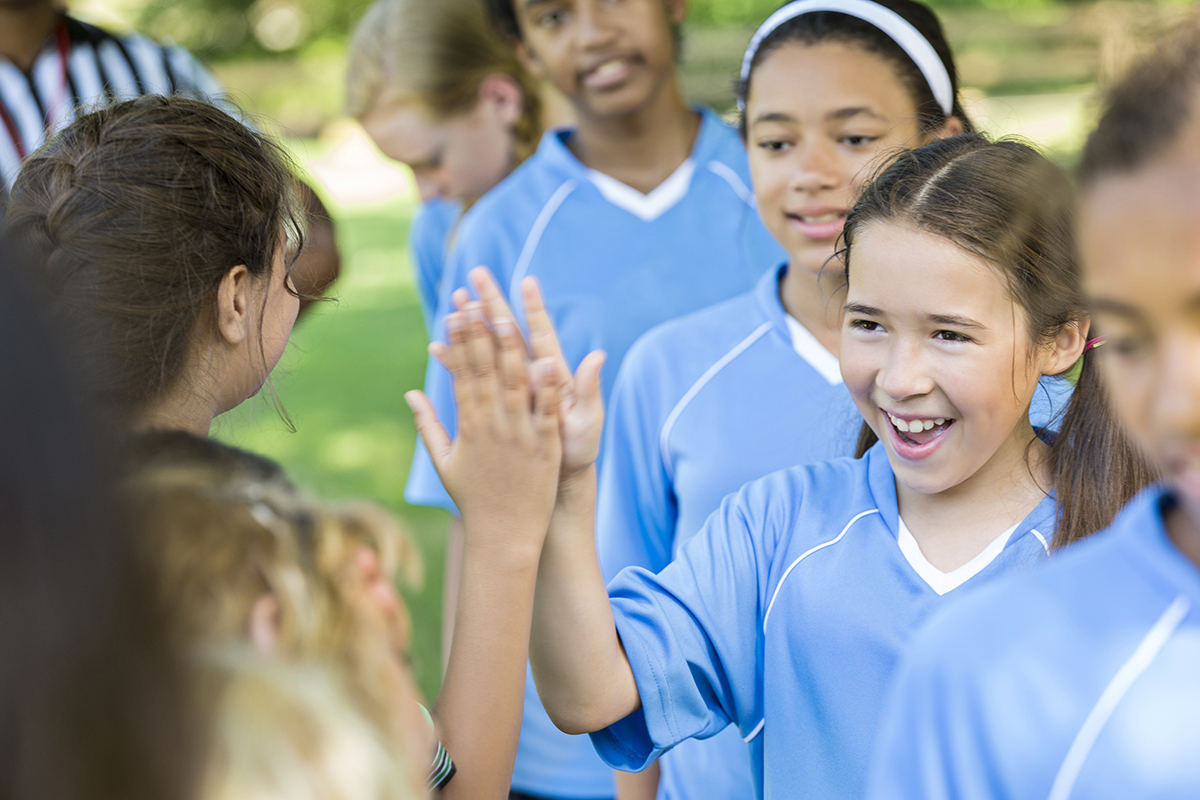 Whether you're upgrading outgrown equipment, fueling a new sporting passion or treating them to some flash new gear or for play or practice, there's a great range of sports equipment available for new players right up to pros.  If in doubt, ask the coach what to look out for and use the expertise of in-store staff to get just what you need.
Check those mouthguards and refit or replace for the new season.  It's a quick but absolutely vital job and will keep those smiles looking good.  Don't forget to keep players hydrated with a drink bottle and keep the energy levels up and immune systems firing with kids multivitamins – in addition to gummies, the Kids Good Stuff smoothies are delicious AND good for them.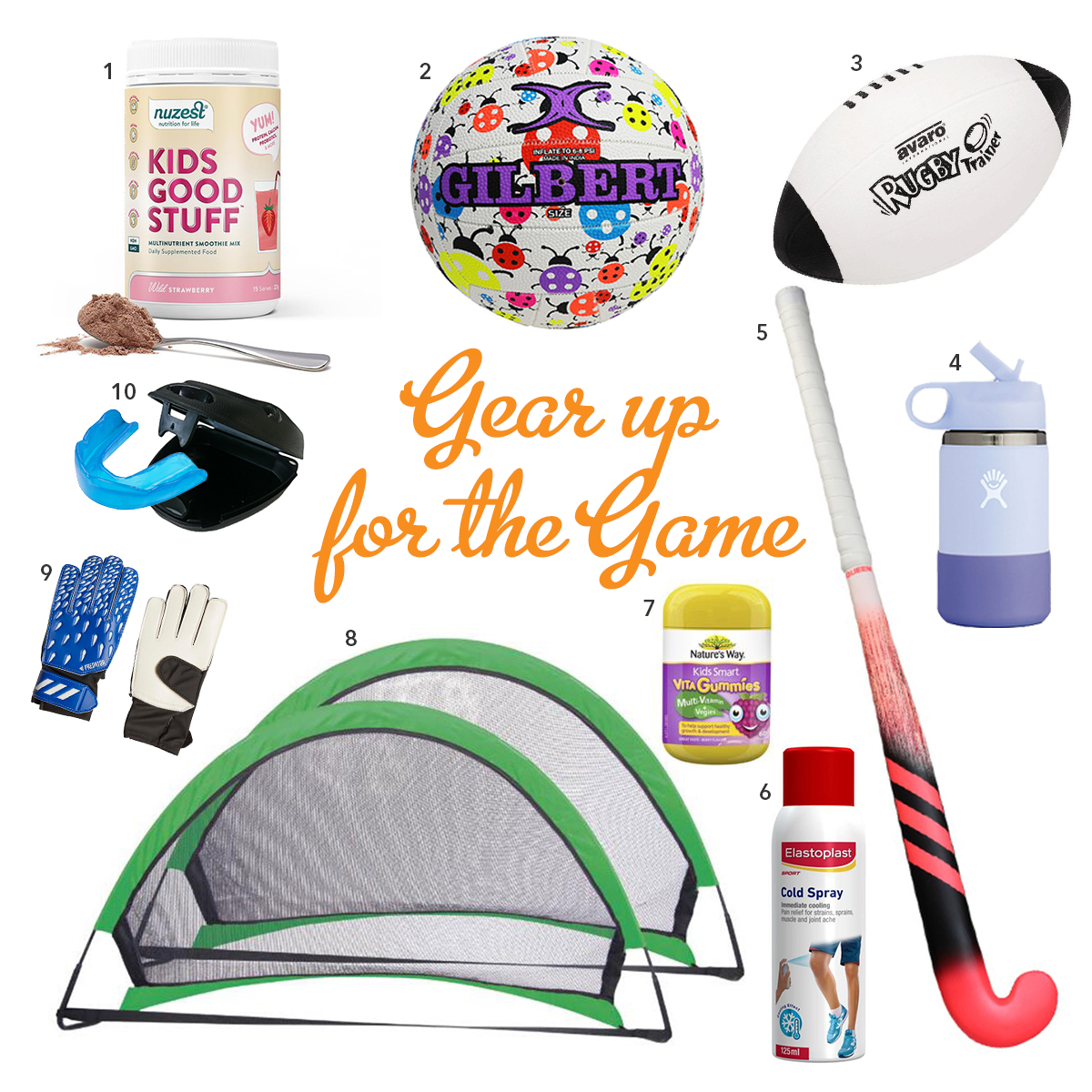 1. Kids Good Stuff, Tonic Health | 2. Netball, Rebel Sport | 3. Rugby Ball, The Warehouse | 4. Drink Bottle, North Beach | 5. Hockey Stick, Rebel Sport | 6. Cold Spray, Chemist Warehouse | 7. Gummies, Life Pharmacy | 8. Goal Trainers, Rebel Sport | 9. Football Gloves, Rebel Sport | 10. Mouthguard, Rebel Sport
My mother always said that you only have one pair of feet so you should look after them – and now I say it to my daughter!  Rebel Sport has a good range of specialist shoes for all codes and there are plenty of options for trainers at all price points right around The Base – including a custom-fit service from Smith's Sports Shoes.  Look for support for still-growing tendons and ligaments and don't forget to bring along the sports socks they'll be wearing to get the right fit – there's nothing worse than finding the perfect fit, only to discover that the thick sports uniform socks push them up a half-size.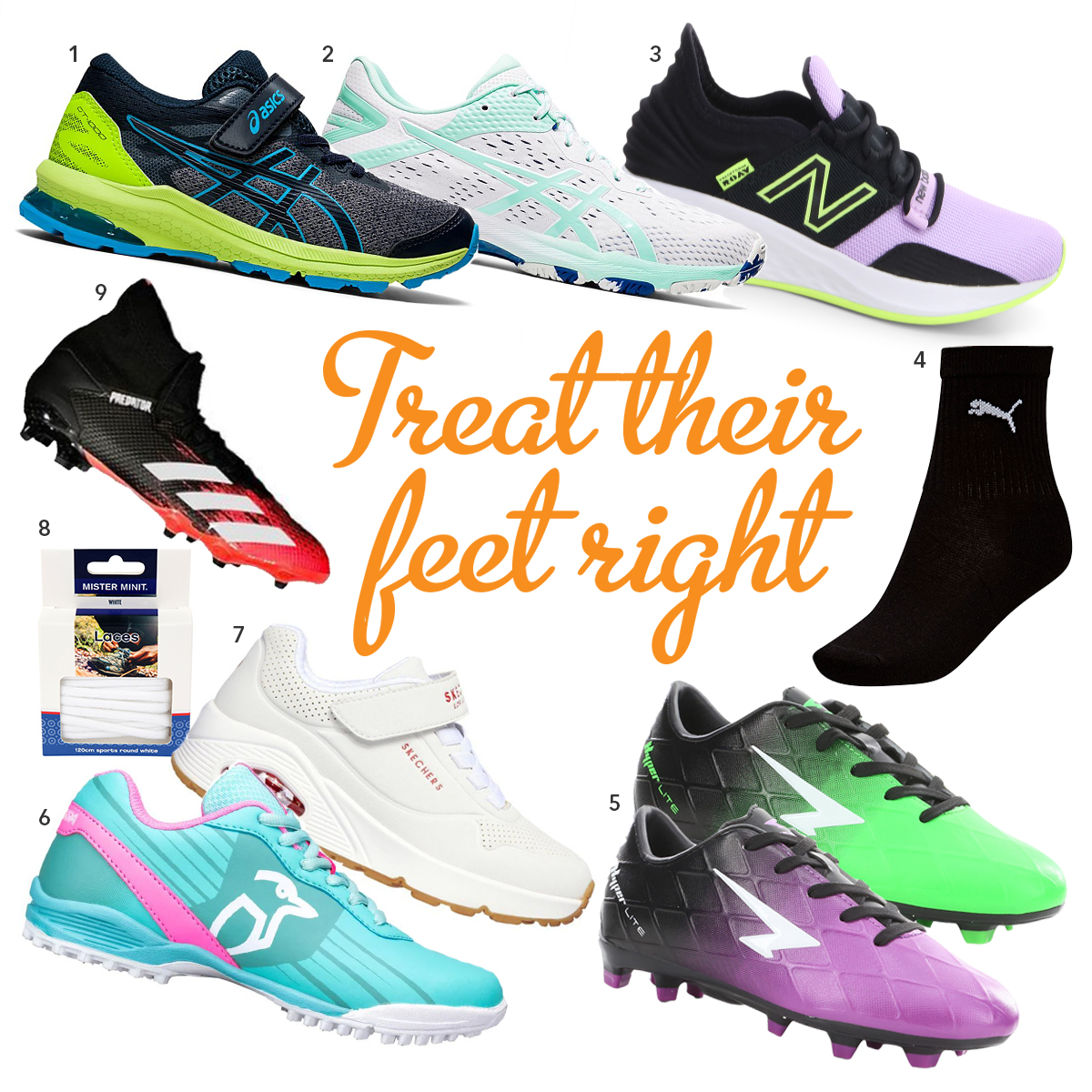 1. Trainers, Stirling Sports | 2. Netball Shoes, Stirling Sports | 3.  Sports Shoes, Hannahs | 4. Socks, Puma | 5. Boots in pink and green, Number One Shoes | 6. Hockey Shoes, Rebel Sport | 7. Sports Shoes, Skechers | 8. Laces, Mister Minit | 9. Rugby Boot, Smiths Sports Shoes 
Finally, don't forget yourself!  Being prepared for the sometimes-inclement weather on the sidelines can be the difference between superfan and super-cold so check out winter coats and snuggly beanies and scarves from fashion retailers right around the centre before you head out.  My top tip?  Some sneaky handwarmers tucked into your pockets.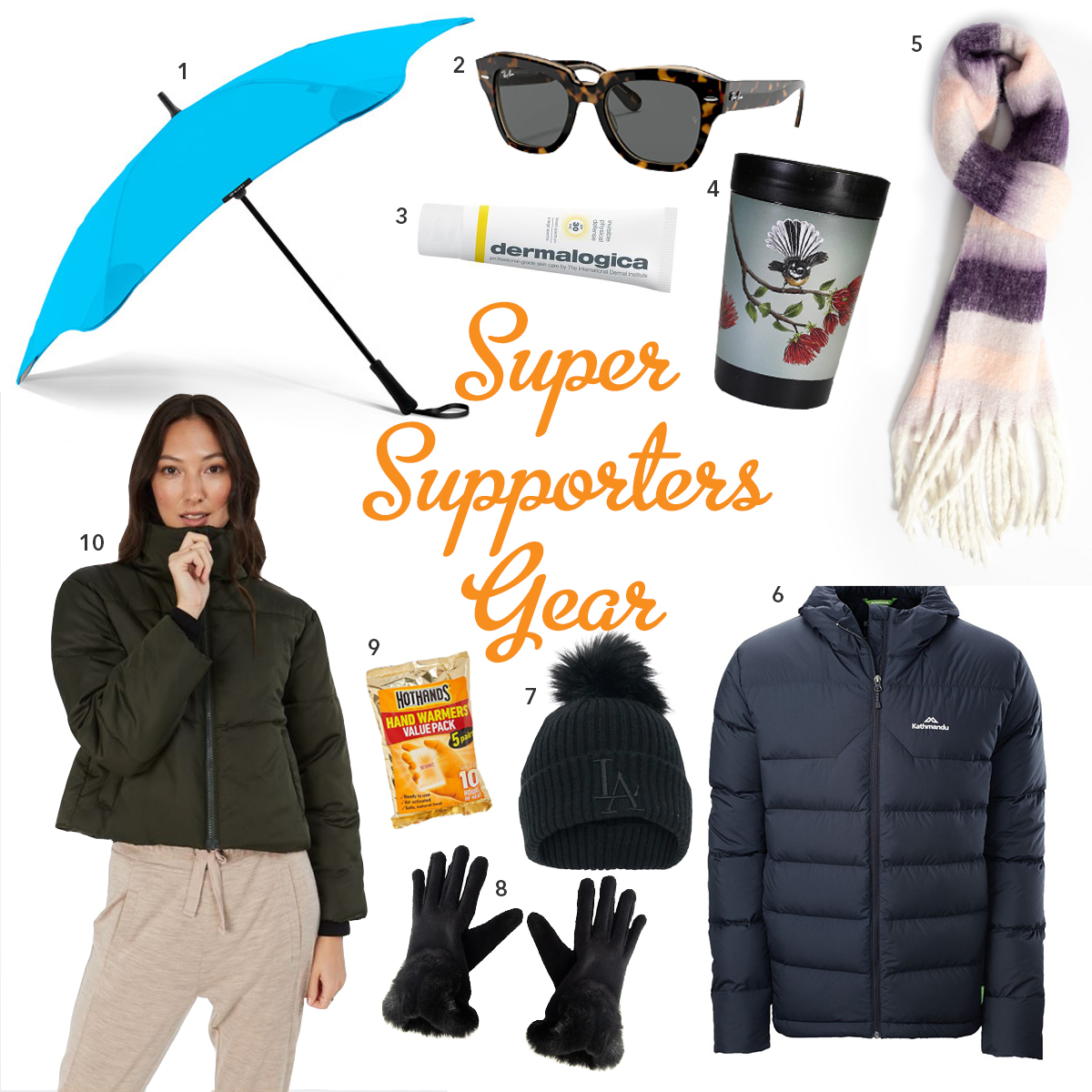 1. Umbrella, Farmers | 2. Sunglasses, Sunglass Hut | 3.  Sunscreen, Farmers | 4. Coffee Cup, Acquisitions | 5. Scarf, Pagani | 6. Men's Puffer, Kathmandu | 7. Beanie, Decjuba | 8. Gloves, Pagani | 9. Handwarmers, Chemist Warehouse | Women's Puffer, Max 
Have a great season – see you out there!