HOCKEY WITHOUT LIMITS AT WHA | THE BASE
Lifestyle
20 May 2021
Through our Match Hero programme, we support thousands of young people as they do the mahi and get active out on the sports field.  Currently, we're proud to support Intermediate and Secondary Level Waikato Hockey through the Waikato Hockey Association.
This week, we popped down to the turf to check out an amazing community programme that the Waikato Hockey is running.  Grants and Sponsorship Manager Kris Anderson, who is a proud supporter of the Waikato community and has been working with not-for-profits and charities for over 20 years, told us what they've been up to: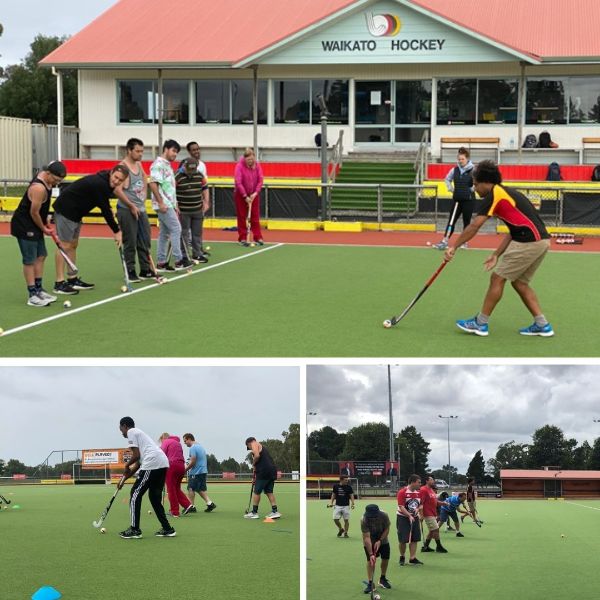 During 2021, the Waikato Hockey Association has been running free weekly coaching sessions for kids and adults with intellectual disabilities under a programme called 'Hockey Without Limits'.
Over 100 participants each week from community groups such as Enrich Plus, Hamilton North, Hillcrest and Patricia Avenue Schools have been working on their sports-based skills with specialist coaches.  At the end of each term, the full day 'Hockey Without Limits Festival' is held to celebrate everyone's progress down at the main playing turfs of the Gallagher Hockey Centre.
Hockey Development Manager, Reiner Vellinga, says "It's been amazing to get to know these incredible people and the feedback from our schools has been so positive.  Personally, I really enjoy all of the energy and excitement everyone brings to each session.  This energy is translating into greater learning and skill development which will not only help with each person's sports development, but impact their broader life as well."
Waikato Hockey has extended a huge thank you to Sport Waikato who have made funding available to help support the programme as additional coaches and support staff are needed with each session.  Without their support, programmes such as 'Hockey Without Limits' could not be run.
Interested in getting your group involved in the sessions or keen to support Waikato Hockey Association as they deliver this programme?  Contact Reiner at Waikato Hockey on 07 838 0485.
TU MEKE WAIKATO HOCKEY - KEEP UP THE GOOD WORK!