JAGOTOWN - A NEW PLAY CONCEPT | THE BASE
Entertainment
04 January 2021
The view from the top (Mum says...)
These hot Summer days are amazing – but the heat can get a little much at times.  So, on a particularly hot and humid Waikato afternoon, we headed into Te Awa The Base for a quick lunch and a few Summer essentials.  While we were there, we noticed (it's hard not to!) that there is something new upstairs next to Hoyts and it looks amazing.  So we headed up for a sneaky peek and we weren't disappointed!
JagoTown is the brainchild of owner Emily who has set out to create a beautiful play space and café that she'd want to take her own family to.  Having tried it for myself, I think she's on the right track – rather than the deafening and hot (or freezing in Winter) cavernous play areas we've become used to enduring while the kids have a blast, I was delighted to find a space that looked after parents too.
It's carpeted, air conditioned (two thumbs up!) and looks GORGEOUS with benches set around shady trees, dynamic feature lighting, hanging greenery and whimsical animals hot air ballooning across the space.  Aside from a seat under the trees, JagoTown features a meandering table layout and comfy bar stools set up against a bar leaner that surrounds the play space (divided into preschool and big kid areas) so that you can keep an eye on the action while enjoying a coffee.
Space that we didn't even know existed up there has been transformed with a clever layout providing lots of fun for kids at all ages and stages.  In addition to the age-appropriate and protected preschool area, there are slides, ropes, ladders and ramps to scramble up and down, bridges and tunnels to traverse, hanging obstacles to swing through (or body slam!) and climbing walls with a soft foam pit at the bottom.  The ball pit was popular – kids will love leaping in and hurling missiles at the interactive digital targets, while parents (if you're anything like me) will love knowing that the balls are regularly removed and cleaned in a specialised sanitising machine – how good?!  There's even a mini flying fox.
The coffee is excellent and the menu encompasses kids favourites AND more sophisticated offerings that will have both parents and kids happy, all presented on cute serveware that continues the theming.  No detail is spared, even the bathrooms are worth a visit!
This attention to detail is even more apparent in the bookable spaces.  Three individually themed party rooms are available, two of which can be combined into one larger space if you just can't get the guest list down.  Stunning murals set the scene while little guests will love presiding over a tree trunk banquet table from comfy toadstool and kiwifruit seats while eating off the cutest themed tableware.
JagoTown is open 9-5 daily and is best suited for kids aged 2-8 years.  You can come along for a single visit or take advantages of JagoTown's unique subscription offer and pay a set fee for unlimited plays – a great plan for when the weather is too hot or cold outside.  Check out their pricing here.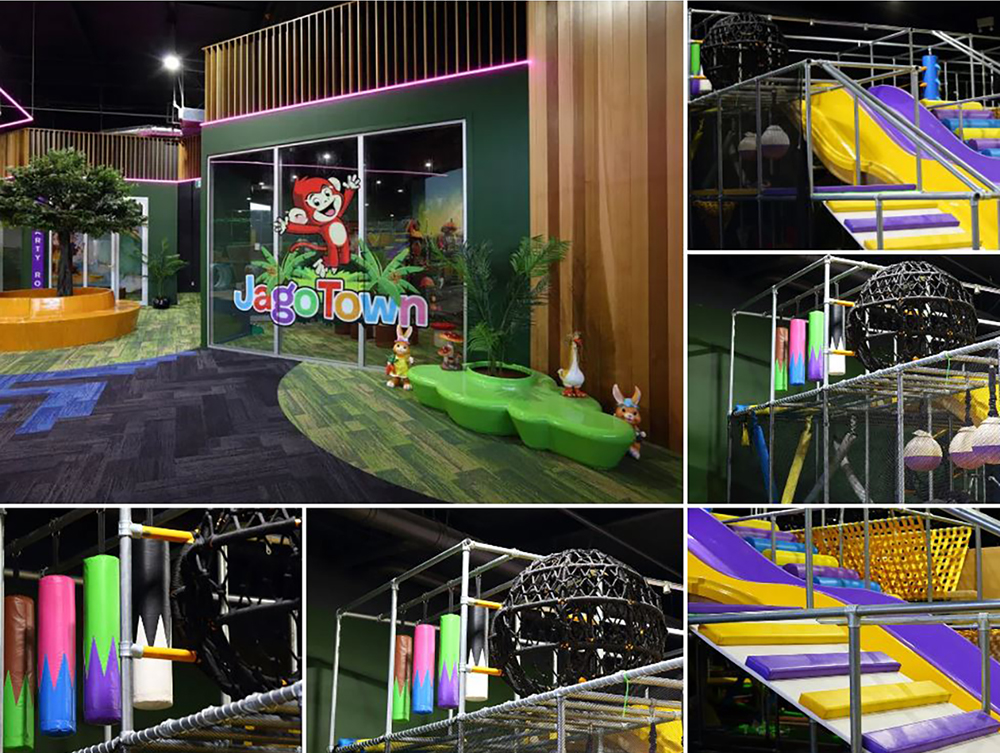 Kids rule (kids say...)
I think JagoTown looked A-MAZ-ING.
There was so much to look at – each little thing had detail on it.  There is lots of greenery and animals hot-air ballooning above.  There are beautiful murals, plants and trees that look REAL with animals sitting underneath.  Even the toilets looked like lily pads!
The party rooms were cute and comfy. Each room had a huge mural on the wall and the seats were mushrooms and kiwi fruit.  I would love to have a party here.
The food was really yummy they had chips, wedges, fruit skewers, mini burgers and more including some healthy foods that everyone will like.  The design of the food was really cool because the hot chips were served in a ferris wheel and the plates had woodland animals and were so cute.
There was heaps to do – there were two big slides and lots of tunnels and different places to explore.  The ball pit was my favorite, you could jump in and laze around like it was a swimming pool.  The ball pit had a screen that you throw balls at and hit the big bosses and evil guys. Rock climbing was cool too because you could climb and then just fall into  the foam pit.
I would recommend this place to ages 8 and lower and their parents – and anyone who just wants to stop in for something nice to eat and have a break.