4 REASONS WHY YOU SHOULD SEE X-MEN: DARK PHOENIX
Entertainment
10 June 2019
If you needed 4 reasons to see the latest (and possibly last, as we know it) X-Men movie, here they are.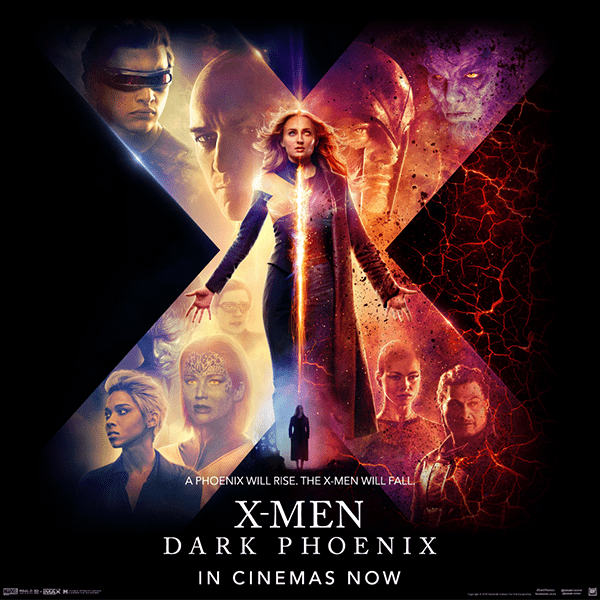 Starring | Sophie Turner, James McAvoy, Michael Fassbender, Jennifer Lawrence, Nicholas Hoult
REASON 1
To get your Sophie Turner fix. If you are feeling a bit lost now that the biggest show in television is not gracing our screens anymore, then this might help with your withdrawals. Sophie Turner took her role as the familiar Jean Grey quite seriously, even studying mental illnesses to prepare for her role as The Phoenix. Interesting to note her Game of Thrones co-star Maisie Williams is also appearing in the X-Men universe in The New Mutants, which is coming in 2020.
REASON 2
The weather over the next ten days is predominantly rain which means it a perfect time to chase more indoor pursuits. It's also the school holidays in a few weeks which is further incentive to get kids out from under feet or to escape yourselves.
REASON 3
After 12 films and 19 years, this is your last chance to see X-Men in their current format. With the X-Men potentially joining the Marvel universe and with Marvel ending Phase 3 with Spiderman's Far From Home out early July 19, the conveyor belt of Marvel films will slow considerably. Any possible misconceptions or misgivings about the future can be quickly dispelled when we remember that when given the unenviable task of replacing two legendary actors in Patrick Stewart and Ian McKellen, they hit two home runs with James McAvoy and Michael Fassbender. Exciting times ahead.
REASON 4
Darker by name and darker by nature. Following the trend set by Logan and glimpsed in X-Men: Apocalypse, this film focuses far more on the internal struggle of Phoenix and Jean. The trailer even showed the death of one of the series most well-known characters just to give you an idea of the tonal shift. It's not bleak by any measure but it definitely has its roots in a darker place, which is never a bad thing.
See X-Men: The Dark Phoenix in cinemas now.